COPY DATA SYSTEMS CORPORATION
Company Profile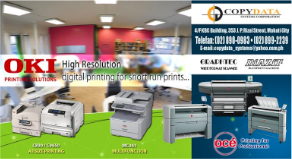 OUR MISSION

We aim to be one of the leading distributors and service provider for Oce Wide Format Printing Systems and the world known OKI Printing Solutions with committed after sales.
Address 4
th
Floor, KBC Building, 353 J. P. Rizal Street

Makati City, Metro Manila, Philippines

Telephone Number (632) 890-0983 (632) 899-2239
Fax Number (632) 890-0983
TIN / V.A.T. 202-474-419-000
Type of Organization Corporation
Year Established May 12, 1999
Contact Person
LARRY JOSE H. MARQUEZ
Business Development Manager
PRODUCT LINES

Authorized Philippine Distributors
:
OCE' WIDE FORMAT PRINTING SYSTEMS

OKI COLOR & MONOCHROME PRINTERS

DIAZIT BLUEPRINTING MACHINES
GRAPHTEC WIDE FORMAT SCANNERS

Authorized Reseller
CANON LARGE FORMAT PRINTER

Copy Data Systems Corporation was incorporated in 1999 as a service provider for Large Format Printing Systems. Since its inception, we have grown from strength to strength both in our capability as well as our ability to deliver quality products such as Oce Wide Format Printing Systems, Graphtec Wide Format Color Scanner, Diazit Blueprint Machines and lately the OKI Printing Solutions for Digital Offset Printers.
Copy Data Systems Corporation has a vast experience in total office products with its incorporators being in the field of office machines for almost a decade and has pleased our customers with our total package solutions. We believe in achieving excellence and high productivity to meet our customer expectations.